The shower lighting above is most likely a back lit shower niche. I would guess at least 5-7 strands of LED's used to produce this level of light. The niche would be in the 12" wide by 24"
dimensions. I'm learning that many times you want less light in the shower. I feature like this fun when your super model girlfriend comes over for a photo shoot but day by day lower light levels are best. We try and over size our features (just in case of pop up photo shoot
opportunities) and adjust the light level with the remote.
Most LED systems come with a remote but plan to use a single toggle switch on and off as well. Once you find your perfect colour it's nice to leave the remote alone and use the switch on the wall.
Red is a hard colour to get right with LED lighting. I think this install has our best colour to date.
What do you think of the red shower lighting? I love the red with the dark floor and the reflection of the white walls.
Lighting and floating tub install by John Whipple
This ain't your Grandma's barrier free shower! But it could be. Systems to drive this kind of light are not that expensive - we went over the top pn the bathroom above and decked it ut with about a $800 LED lighting package.
The secret ingriedent in most of my LED projects is a product called Kerdi Fix. I show how I use it in the indepth LED lighting folder below. If you can afford one of these Italian or German shower fixtures shown below you are in for a real treat. Large surface mounted (to ceiling) rain heads offer up a great access panel for things like speakers and other light sources that might need acccessing every 5- 10 years.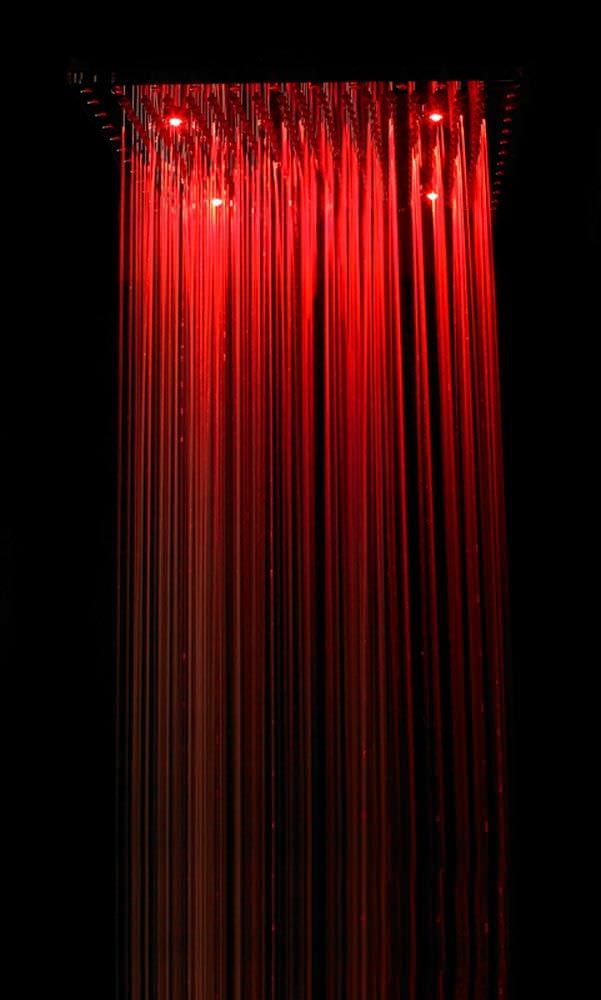 One of the first steam showers cast in a red glow and full of steam shown below. This great steam shower uses four LED pool lights that are placed in each corner of the steam shower's ceiling. It's important to remember that each LED light has three tiny light sources. One red, one green and one blue. Try and place these lights so that each of the tiny coloured sources face the same way. This way you get even lighting on the walls.
The simplest red light source is an ACO Lighting kit is (shown above in the video clip). This is an easy way to change the look of your ACO linear shower drain. With most of the ACO drains this is an option.
An install in Italy.
With some care and crazy design we lit this shower drain.
Need to see some more Red?
Even Chickens get horned up by Red Light
An LED Shower Niche is easily built and can produce this perfect light source if this is the type of shower your after! Finding the model and massive spray head will be harder to source. My shower lighting installation pictures can be found via this link.
http://no-curb.blogspot.ca/2013/02/john-whipple-photo-bucket-albums-index.html